Published: November 13, 2023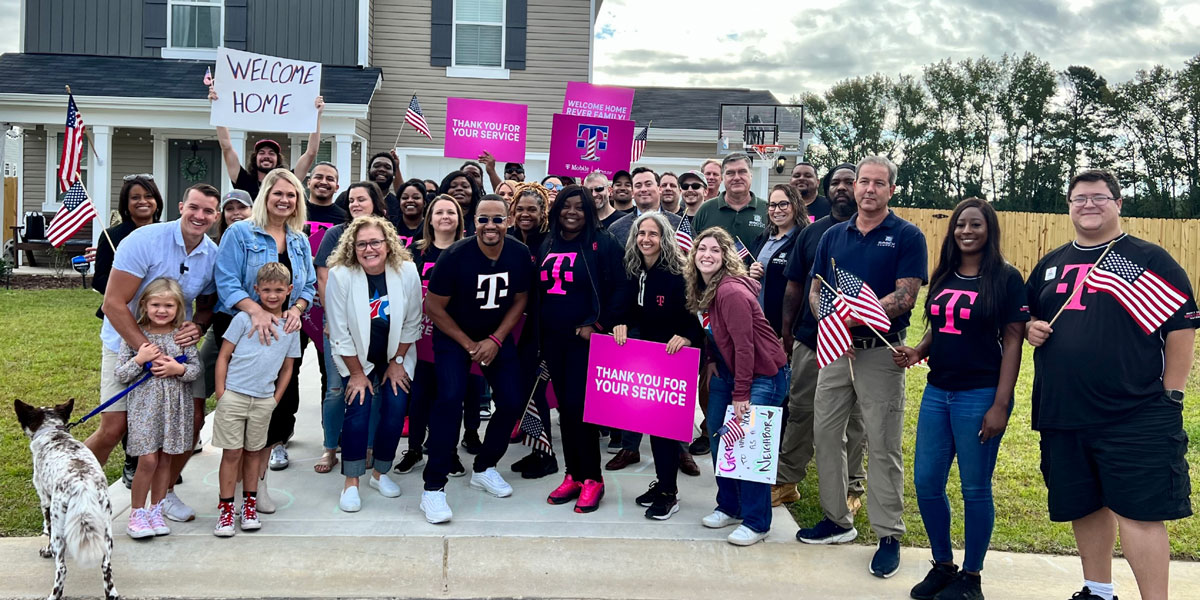 Meet Alyssa, an Army spouse and mom to two amazing kids. Because of her husband's gig as a warrant officer, they've hopped around more times than she can count. But this summer, they put down roots in Fort Liberty, just outside Fayetteville, North Carolina. They snagged their first house and are on a mission to turn it into a real home.
Alyssa is tough, but even the strongest of us can feel a little out of place. You see, her remote job has kept her a bit isolated, and making friends with the neighbors hasn't been as easy as she'd hoped. She's been craving those genuine connections.
But guess what? She's not alone in this boat. We did a study at Blue Star Families, and it turns out 61% of military spouses work from home because life can get a bit unpredictable in our world. That means a lot of us could use a little extra support and a stronger sense of community, just like Alyssa.
This year, during our annual Blue Star Welcome Week and on Good Neighbor Day (September 28th), we teamed up with our buddies at T-Mobile and the fantastic Moving With The Military host Maria Reed. We hatched a plan to surprise Alyssa with a brand-new home office. We wanted it to be the perfect spot for work but also a haven for family fun.
We moved Alyssa and her family to a local Airbnb and got to work with help from her neighbors and several T-Mobile volunteers. Three days later, we welcomed them back home like no other.
When Alyssa first saw it, her words said it all: "[This has been a] once-in-a-lifetime experience that my family and I will cherish for the rest of our lives. We are truly grateful for everyone who had a part in making this dream a reality for us!"
This November, as part of National Veterans and Military Families Month, we're spilling the beans about this amazing surprise. You can watch it right now!
But wait, there's more …
After Alyssa's office reveal, we all headed to a Starbucks store near her place. There, we had something special in store for 30 Army spouses, just like Alyssa, who juggle the ups and downs of military life. They got to savor some delicious pastries, and as if that wasn't enough, they opened boxes full of awesome swag. Imagine their surprise when they found a $100 Visa gift card in there too, all thanks to Team Magenta.
Alyssa was over the moon, and she shared something pretty cool with us: Before the event, she felt like a stranger in her community. But as the day wrapped up, she had a bunch of new contacts in her phone and exciting plans in the works.
Alyssa's story is the heart of what Blue Star Welcome Week is all about — building connections and creating bridges.
You know what's even more awesome? T-Mobile isn't just a partner to us; they're like a friend who truly understands the military community. This matters a lot because when military families can't find the support they need in their local communities, it affects everyone, including our service members and our All-Volunteer Force.
Lucky for us, military spouses like Alyssa are turning to Blue Star Families to bridge the gap between their military and civilian worlds. That means our service members can focus on their mission while we've got your back.
And know this, reader: Blue Star Families is on a mission to beat the loneliness and isolation that military families sometimes feel in our local communities. This is about mission readiness, folks. Thanks to incredible partners like T-Mobile, we've made some big strides. But you know what they say, "We're in this together," and there's still plenty of work to do. Challenge accepted.
So, now it's your turn.
If you can relate to Alyssa's story, we urge you to jump aboard today. You can do this one of two ways.
First, join The Neighborhood: An exclusive online community for Veteran and military families to find resources and events and build friendship and support.
Second, connect to a Chapter: Local groups built for military families by military families with your unique challenges and needs in mind.
No need to wait any longer. You. Belong. Here. Let's connect.
*T-Mobile's commitment to Veterans and military families extends beyond this event. The company honors all service members, including military spouses, through discounted wireless plans, community events, career navigation, and support as service members transition to civilian life after duty. Through these actions, T-Mobile demonstrates its year-round dedication to supporting our Veterans, active-duty military, and their families, long after Blue Star Welcome Week and National Good Neighbor Day have passed.